Founded in 1952 Minami at that time was an adult city Now, the famous stores of the past are gradually disappearing I can't even remember that shadow ... Our shop is also an old bar before you know it With the support of our customers, he continues to this day. The owner is also the second generation, and I would like to keep the old appearance, but always try new ones. Not to mention cocktails, seasonal fruit cocktails, glittering world liquors, cigar fun, etc. Enjoy the world of bar.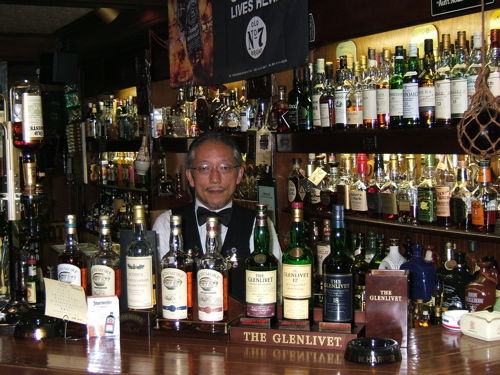 5-34 Souemon-cho, Chuo-ku, Osaka


Telephone
06-6211-3577
18: 00-25: 00 (Open on Sundays and holidays)
L.O. 24:30
(General Incorporated Association) Japan Bartenders Association (NBA)

Kansai Headquarters Osaka branch We accept
membership atny time Please feel free to offer
Phantom cocktail supplement plan

The first Gimlet of bar victer in "Long Goodbye" by Raymond Chandler Gimlet swallowed by Philip Marlowe and Terry Lennox Currently, liquor ingredients are not available in Japan, but we obtain them independently at our shop and serve them to those who wish (please order with Terry Lennox's Gimlet).

In the second Ian Fleming "007 Casino Royale" he is an improvised cocktail ordered by James at the casino. This is the true Bond Martini. He named his beloved woman "Vesper" the cocktail. This also uses "Kina Lillet", which is not available in Japan. We are currently discontinuing production, but we have obtained our own materials for which the original author accepts substitutes (please order with Vesper Martini).